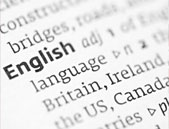 English
Why is it important to learn English?
Improving your language skills can 'open doors' for you... It will help you live, study and work at home or overseas.
Want to improve your employment prospects at home or abroad?
Try TOEIC (Test of English for International Communication): designed specifically to measure everyday English skills of people working in an international environment.
Planning to study abroad? You will probably need a good IELTS score (International English Language Testing System the accepted standard for many university entrants)
Planning to get married? Under new EU laws, your spouse will need an acceptable level of English or other European language in order to stay in certain EU countries.
Travel or pleasure – purely for the self-satisfaction derived from speaking English.
Whatever the reason - work, study, exams, travel abroad or purely for pleasure……whatever your needs, whatever your level… if you want to communicate successfully with others, here in Thailand, or around the globe – we can help you.
"Speak English Correctly" - SLS Training Centre English Program
Our Beginner course :
Helps you learn the basics of English and enables you to understand and take part in simple conversations.
Our Elementary course :
Helps you with the basics of English and develops your language 'survival' skills. It aims to help you feel relaxed and confident in functional speaking, pronunciation, listening, reading and writing.
Our Pre-Intermediate Course:
Is designed to help you deal with a more complex range of everyday situations, whether you are speaking, listening, reading or writing. Vocabulary starts to become more idiomatic at this stage.
Our Intermediate Course:
Develops your speaking, listening, reading and writing skills and increases your confidence in both social and professional situations.
Our Advanced Course:
Is designed to help you become a competent, adaptable and strategic user of English who can carry out complex tasks whether speaking, listening, reading or writing. Grammatical work is more refined at this stage and focuses on more varied structures. These advanced classes can also cover TOEFL, TOIC and IELTS instruction if required.
---
Beginning October 11th and October 12th
3000 THB for 20 hours.
| | | |
| --- | --- | --- |
| Saturday | 10.00 am - 12.00 midday | English for Intermediate Learners |
| Sunday | 10.00 am - 12.00 midday | English for Beginners / Elementary |
| Monday through Thursday | 10.00 am - 12.00 midday | English for Intermediate Learners |
| Monday through Thursday | 13.00 pm - 15.00 pm | English for Beginners / Elementary |