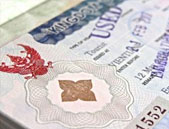 How to get your ED Visa
In order to acquire your ED Visa once in Thailand you should first obtain a 60-day Tourist Visa from your country of origin.
When you apply for one of our accepted study courses you can acquire an ED Visa, via SLS, through UR VISA SERVICES.
There are usually 3 stages to the process:
Stage 1:
UR VISA SERVICES will collate and send all required documents to the MoE, certifying your enrolment.
Stage 2:
The MoE will notify UR VISA SERVICES of your approval.
Stage 3:
On approval,
you
must apply for the 1-year Non-Immigrant ED Visa at a Royal Thai Embassy or Consulate
outside
Thailand.
UR VISA SERVICES will support you in assembling the necessary documentation in order to ensure a successful outcome.
The ED Visa fee is around 1,900 baht, plus the cost of travelling to the selected neighbouring country. The total cost will depend on the mode of transport.
The process usually takes three days.
Once your new visa is issued, you can re-enter Thailand and stay for
90 days
before reporting to your local Immigration Control Office; for example, at Jomtien, if you are near Pattaya.
Through UR VISA SERVICES you can apply the 1-year Non-Immigrant ED Visa to a number of countries. Here are some of them:
Cambodia (Phnom Penh)
Laos (Vientiane) *** UR VISA SERVICES recommends this option ***
Myanmar (Yangon)
Vietnam (Hanoi)
Some countries require "visa on arrival".
Please check if this is required and the conditions that apply, well in advance of your journey.
(E.g: It costs around 30 dollars for the "visa on arrival" in Vientiane, Laos)
Your non-immigrant ED Visa will be valid for
90 days
, after which you
MUST
return with a new letter from the MoE, indicating that you are still enrolled at the school. Another letter will be required after a further 90 days, and so on. Again, UR VISA SERVICES will assist you with this.
Further fees are payable for these extended services.
Students should ensure that they have
15 or more days remaining
on their current non-immigrant ED Visa prior to expiration of the first 90 days. Tell UR VISA SERVICES at this point.
UR VISA SERVICES will then inform you of the documents you require at each stage.
You
MUST
report to the Immigration Bureau in Jomtien, with approval letters from the MoE,
in person
, every 90 days (3 months) and should update your address and contact number in Thailand, with UR VISA SERVICES, where appropriate.
An ED Visa immigration fee of 1,900 baht is payable every 90 days.
Notes
:
Special conditions apply to obtaining the ED Visa for certain countries
Residents of India, China, Pakistan, Sri-Lanka, Bangladesh, Nigeria, Iran, and other Middle East countries, must return to their own countries to apply for ED Visa status at their local Thai Embassy or Consulate.
Those of Middle Eastern or African origin also require a Police Check Certificate and must also show a 6-month Thai Bank account statement. This is a requirement of the Thai Government. Police Check Certificate can be obtained from the police in your own country, if you apply from abroad.
If you are in Bangkok you can go to :

Police Clearance Service Centre
Commander Special Branch

Royal Thai Police Headquarters

Rama I Road, Patumwan

Bangkok 10330, Thailand


Telephone: +66 (02) 205-2168


Fax: +66 (02) 205-2169


E-mail:

pcsc@police.go.th


Website:

www.sb.police.go.th
Notes
:
If you wish to visit another country while studying on an ED visa, you must apply for a re-entry document
(cost 1,000 baht at the Jomtien Immigration Office) before leaving Thailand.
All the above information is correct at time of writing, but may be subject to change.