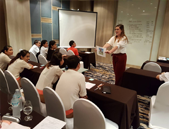 TEFL
Our TEFL mission:
"To inspire and prepare you as a teacher for the future"
Our TEFL vision:
We will share with you the knowledge and expertise that will ensure you realise your capability as a proficient teacher of English.
We will actively assist you to pass the TEFL course and in so doing, become a self-assured, effective and competent teacher, able to design and deliver lessons in a meaningful and informative way.
We will be consciously aware of your individual needs and will support you in achieving your goal. Our understanding and guidance, together with continuing professional development, will allow you the optimum chance of consistent and sustained success.
TEFL
Our course is a career-ready qualification that will enable you to begin teaching as soon as you become certified.
At SLS we will teach you how to teach students of any age or ability.
Achieving our TEFL qualification is a sign of quality and is your passport to teach, not just in Thailand, but also anywhere in the world.
In the past, most of our TEFL trainees have come mainly, although not exclusively, from native English speaking (NES) countries around the world, and perhaps more importantly, from all walks of life. Indeed some of our most successful teachers have surprised themselves by their capabilities and achievements. Examples can be found in the painter and decorator who left school at fourteen and now teaches near Nakhon Sawan; the farmer who ploughed the fields for twelve hours each day and taught in Chonburi, and the tree surgeon who went from the great outdoors in the UK, to teach at a school near Khon Kaen, to name but a few.
The course has been developed to become one of the most respected in Thailand. With your determination and our guidance, you will have every opportunity to become an accomplished English language teacher. We will help you to build a repertoire of classroom skills and instill in you, the confidence to teach successfully. To this end you will have our total, undivided attention.
Having achieved TEFL status the opportunities that become available can be wide-ranging and extremely satisfying. Over the years, we have trained teachers who have taught one-to-one, small groups in a private capacity and many who have gone on to teach medium to large groups in Thai Government schools, private schools, colleges and even universities.
As part of the course we will assist you in honing your job-search skills. Once employed, you will find that many more doors open for you; the visa process becomes easier, acquiring a work permit entitles you to live in Thailand legally and even opening a Thai bank account becomes simpler.
We can now offer various exciting 'new' courses to meet the needs of our trainee teachers.
Regular TEFL course is baht 39,500
Regular TEFL course with 4 weeks accommodation is baht 49,500
Part-time (120 hour) TEFL course is also available for baht 35,000
Professional development course – practical methodology combined with classroom experience to supplement and endorse your existing online qualification or education degree at baht 35,000
At the conclusion of each of our courses you will receive a valid TEFL certificate.
Each course is registered and fully approved by the Ministry of Education of Thailand.
In addition, we offer a generous discount for couples and other benefits when choosing one of our courses. (contact us for full details)
Airport pick-up (Suvarnabhumi / Pattaya) if required
First night free local accommodation in Pattaya with

regular

course if required
Special price option on

regular

TEFL course with FULL accommodation saves you money
50% discount for one person in a 'couple' (one of any two persons considered together)

5 hours free

Thai lessons with all TEFL courses
Registering for our TEFL course is very straightforward.
Either email or call us.
We have an exclusive opening offer on our first course and for students enrolling on subsequent courses there are special early bird deals if you book and pay in full at least one month in advance………so unlock your potential and contact us for more details.
Full schedule of TEFL Courses
2023 (4 weeks course)
January 2nd - January 27th
February 6th - March 3rd
March 13th - April 7th
April 24th - May 19th
May 29th - June 23rd
July 3rd - July 28th
August 7th - September 1st
September 11th - October 6th
October 16th - November 10th
November 20th - December 15th
2024 (4 weeks course)
January 8th - February 2nd
February 12th - March 8th
March 18th - April 12th
April 22nd - May 17th
May 27th - June 21st
July 1st - July 26th
August 5th - August 30th
September 9th - October 4th
October 14th - November 8th
November 18th - December 13th
(Dates subject to change in the event of Thai holidays)
Call us on
038410655
, email us at
info@slsthailand.com
or use
our contact page