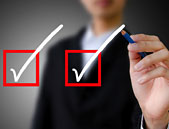 IELTS, TOEFL AND TOEIC exam preparation courses
SLS specializes in preparing students for
IELTS, TOEFL and TOEIC examinations
. Do you need to take one of these tests for education, work or immigration purposes? If so, you should give yourself the best possible start by enrolling on one of our exam preparation courses.
These exams are highly unique, and completely different to any other major exam you have taken in your life. A good command of the English language is not sufficient alone to get a satisfactory score; you need an in-depth knowledge of the various test formats, and to learn the techniques required to answer all the questions correctly and efficiently, while working against the clock.
At SLS we have experienced and expert teachers who can guide you to that magic score, the score that holds the key to a better life,
a successful future and the chance to realise your dreams.
Don't wait until the last moment. You can't prepare properly for any of these exams with just a few hours tuition.
You need to start preparing well in advance of taking your intended test.
Contact SLS today, and select an exam preparation course appropriate to your individual needs.